Monday, August 24th, 2009
My company is trying to save money so we are moving off of renting servers to buying our own servers and host them ourselves in a co-location space. It was a quite stressful process from drafting machine specs to putting servers together and installing them at the data center. It took me a month to decide on all the parts to buy, 2 days to put the servers together and 2 days to install them at the data center. Why 2 days to install them at the data center? That's because the rails (Antec 20″ rackmounting side rails) I bought weren't really made for 1U servers. They are too tall (wide) to stack on top of each other. I believe these rails are probably made for 2U. The rails itself is very solid though. Here is what the rails look like: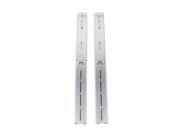 We were juggling on our first day at the data center moving servers around trying to fit them in without wasting space. Basically, in order to fit this rails, we need to skip one nut on the rack. Which means, we would loose 1U for every 3 servers. That kinda defeat the purpose of purchasing 1U cases. We ended up only using two of these rails and stack 5 machines on top of a set of rails. This rails is very well built and it hold up very well. We are shopping for 1U rails now to refit the machines once we receive new rails.
Here is a couple pictures of what our rack look like: